BBN Star, Tboss steps out without Bra, Pant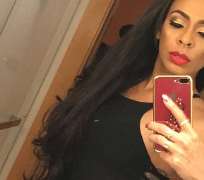 Wow, former Big Brother Naija reality TV show contestant, Tboss, since leaving the show, has maintained strong relevant in the Nigerian showbiz world and she is really trending.
Tboss got everyone talking and whispering after she shared a photo of a see-through outfit she wore for an event which also revealed the large tattoos she's got.
Well, it is none of my business though, but she's got some nice skin although covered with tattoos but she is cool like that.
What only got many talking was the fact that she was not having pant and bra on. Oh, Tboss, the queen mama. She will not just allow good men last at all (lol).