THERE WON'T BE CREDIBLE ELECTION NEXT YEAR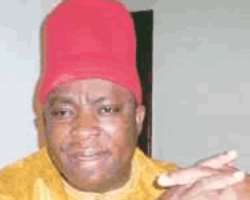 Chief Victor Umeh
The National Chairman of All Progressives Grand Alliance (APGA), Chief Victor Umeh has a shocker for the nation on this Democracy Day. And his message may not be too palatable for those Nigerians who have been blowing their tops with the hope that next year's elections would be an ideal one.
Umeh sees it otherwise and has this simple message: 'The possibility of having a credible election in 2011 is not in sight not withstanding the promises made by President Goodluck Jonathan. So, our waiting for such attainment is still far and long out of sight.'
Umeh, who reviewed the last three years of the present democratic dispensation, stated that 'the rejection by the Peoples Democratic Party, the president and the National Assembly of the pillars of the electoral reform put together in the Justice Muhammadu Uwais electoral reform committee report is a clear indication of the determination of the party in charge to rig the general election next year.'
The APGA boss, who scored the judiciary very high in his assessment of the three arms of the government and legislature last, commended the late President Umaru Musa Yar'Adua for his belief in the rule of law which, according to him, guaranteed the personal liberties of Nigerians in the years under review.
He however said that Yar'Adua was weak in the fight against corruption because of criminals that surrounded him as friends and urged the present government to do away with them.
'On the balance of assessment, I score the judiciary first in the past three years, the executive second, the legislature, last. In these past three years, the late President Yar'Adua had very great visions for the country, the things he set out to do were things that will propel development in Nigeria. His policy on the power sector is very important; the Niger Delta issue that was threatening the economic life of the nation was a place he excelled while there. The rule of law, which he was desperate to uphold in Nigeria, was very good.
'It was in the area of fight against corruption that Yar'Adua was very weak. He was very weak because he had a lot of criminals who looted the treasuries of their states, as his friends. The present government needs to go away from there but the signs we are getting are very worrisome.'
How has democracy been in the last three years?
I can say that we are lucky to still have Nigeria passing through democratic governance. The past three years have been very, very challenging years in our democracy. But one fact one must admit is that our democracy is currently undergoing some sort of evolution. Having confined the assessment to the past three years, I'll begin from the historic inauguration of our former President, Umaru Musa Yar'Adua on May 29, 2007. On that date, Nigerians saw a new beginning in our march to pursue sustainable democracy. That was the first time a president was inaugurated and on the day of his inauguration, he accepted the pitfalls of our electoral processes. Our president in a very remarkable show of humility admitted to the whole world that the election that produced him was flawed and asked for patience and asked Nigerians to allow him sometime to put in an electoral reform that will ensure that our elections will be free and fair in future.
That singular act of the late president marked a new beginning for a lot of people. Frayed nerves were calmed, people who wanted to take to the streets and cause mayhem as a result of the fraudulent election of 2007 decided to calmly take their grievances to court while at the same time giving the president an opportunity to take some actions that will reform our polity.
Within the period, the former president also made a clear departure from our recent past where laws were not kept, court decisions were not obeyed even in the face of democratic governance that characterized President Obasanjo's eight-year rule. The president saw the rule of law as a very essential ingredient to nurturing democracy. He made it one of his seven-point agenda. Not that he achieved it completely within the past three years, but so much was done in that direction where people no longer acted with impunity. So, that was good for democracy.
Another thing he did was that in the past three years, we saw a great improvement in the guarantee of personal liberties of Nigerians; freedom of expression was respected, people were able to vent their grievances without fear of molestation. So, in the past three years because of the calm nature of the President we had and his disposition to power, Nigerians exercised their opinions freely. There was no witch-hunting in our polity in the past three years and public protest and demonstration found its feet in Nigeria. And you know that democracy respects public opinion, public protest, public demonstrations over issues the citizens feel very strongly about. So, these liberties were guaranteed Nigerians.
The electoral reform, which the president tackled even though not yet completed at least gave an indication that our problems have been identified and efforts are being made to address them.
The issue of management of elections is also discussed today. So, in summary, I will say that in the past three years, our democracy has been thrown open for people to participate in and for people to make contributions through debates on how to get it better. All the debilitating effects of our non-adherence to acceptable democratic culture are curtailed right now. I can safely say that our democracy is on the move but so much still needs to be done to get it to an acceptable standard.
How far can you say these positive issues Yar'Adua initiated have been actualized?
As I said, everything is still in the making; most of the reforms initiated by the him in the past three years have not been consummated. They are still in the making and one hopes that our new president, Dr. Goodluck Jonathan will feel the compelling need to pursue those noble visions of Yar'Adua by taking very seriously these essential political reforms, which Nigeria needs. And there's no leadership that will meet the expectations of the people if you don't have proper and adequate political reform. It is this political reform that will involve looking at the constitution which we are operating today to know if the provisions of the are serving the purpose of democracy effectively. If not, then amendments are necessary.
In the area of electoral reform, as I said, there is no final action yet but one thing that is key to the survival of democracy in Nigeria is our ability to conduct free and fair elections. If we don't get it right in the way we bring in leaders in this country, our democracy will never succeed. A credible electoral process produces credible leaders, credible leaders from the sense that leaders who are chosen by the people themselves would be more accountable to them. If they do not discharge the responsibilities of their offices, in subsequent election the people will vote them out.
So, it is a curing process whereby through credible elections, good leaders are elected, some of them are sustained within the limit of time allowed by the constitution, those who do not perform to the satisfaction of the people would be shown the way out and through that reform process, we will be getting leaders that will over time begin to think about service to the people only because if you get to leadership without meeting the needs of the people and the people are helpless in getting you out of office, what you will now see would be a distortion of true democracy. It's only a credible electoral process that can guarantee that. So, the most critical reform which Nigeria needs today is that electoral reform along with constitutional reform.
If our leaders are able to focus very passionately on these essential reforms, all our problems – economic, social, political will fizzle out over time. So, the government has not been able to conclusively deal with these critical reforms. There are political considerations that weigh down these reforms because now in Nigeria we have the ruling party called the PDP and most of the essential reforms needed to cure the defects in our democracy would be to the disadvantage of the party and for their own selfish considerations, they have continued to play the ostrich over this very important action that must be taken to guarantee the future of our democracy.
How well has the government performed in these three years?
In the past three years, I will say that using the Federal Government, which drives the country as a matter of fact, because we had a humble president that christened himself a servant-leader, he was able to articulate visions that were laudable, visions that can be pursued to ensure the growth of this country in many areas.
But because of the level of rot in the system, it was not possible for much progress to be made. This was the only president Nigerians have had that publicly declared his assets on the day he was inaugurated. He acknowledged that the election that produced him was flawed. That was the type of mindset that is required for effective leadership in this country. It's about telling yourself the home-truth and beginning to seek solutions to the problems. So, he positioned himself in a way that everybody believed that he was sincere. Even now that he has died, it is still possible for people to still be hopeful that even though we've not got our problem sorted out, we had a sincere leader that made sincere efforts towards the solution. Whether he was succeeding or failing was immaterial, but he was on a right gear to seeking solutions to these problems.
So, in the past three years, if you take the government in sectors, you'll notice that we have not made tremendous progress in any direction so to speak. One thing that Yar'Adua did was that like I have mentioned before, an effort to liberalize our democracy so that people will begin to cross political ideas, express themselves freely, ensure that there was rule of law which was very germane to the growth of democracy in any country. And in the area of physical infrastructure, we've not got it right at all, most of our roads remain impassable. In the energy sector, which is declared an emergency, we were not out of it yet. We were promised 6000 megawatts by December 2009, this is 2010, we are now in May but we have not got anywhere close to 6000 megawatts and we have a vision of having up to 100,000 megawatts of electricity over time for us to make Nigeria an industrial giant.
Without power we cannot do anything. So, the poor state of our power infrastructure, energy infrastructure has impacted very negatively in so many areas particularly in manufacturing.