NIGERIA SEEKS MORE BENEFITS FROM UN ROLES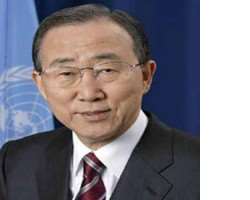 THE Federal Government yesterday lamented that despite Nigeria's robust military and heroic diplomatic engagements across the globe, the country has not benefited materially from the lucrative United Nations (UN) procurement activities within the world body's system, especially those linked to peacekeeping compared to India, Pakistan, Japan, Sweden and others.
But the Minister of State for Foreign Affairs, Dr. Aliyu Idi Hong, said the country was working to redress the situation by collaborating with the UN Secretariat Procurement Division (UNSPD) and the Centre for Trade Practitioners (CTP).
Speaking yesterday at the UN Procurement and Vendor Registration Seminar in Lagos, Hong who was represented by Dr. Martin Uhomoibhi, Permanent Secretary, Ministry of Foreign Affairs, lamented that other countries had taken full advantage of the UN procurement system by ensuring that their business communities participate actively in the UN procurement process.
'Our commitment to international peace, security and stability has been conducted at enormous cost, both human and material resources. Regrettably, in spite of this robust military and heroic engagements, Nigeria has not benefited materially from the lucrative UN procurement activities,' he said.
Hong added that in line with the strong commitment of the remaining months of the current administration of President Goodluck Jonathan, the Foreign Ministry would focus on the use of a dynamic foreign policy to achieve the objectives of the Millennium Development Goals (MDGs) and the Vision 20:2020 programme of the Federal Government.
The minister said the seminar and other activities were basic opportunities to use the nation's membership of the UN and other international organisations to attract foreign resources that would benefit corporate and individual Nigerians.
According to him, the UN procurement system 'offers legitimate opportunities for the UN member states in the areas of supplies to the UN offices and Peacekeeping Missions worldwide.'
The products, he added, 'include fuel, food service, engineering, logistics, air charter, cleaning and forwarding services, uniforms, communication equipment, etc.'
Hong urged the Nigerian business community and vendors in particular, the practical opportunity to participate in UN procurements, which is currently put at over $2 billion yearly out of which more than 45 per cent is attributed to procurements from developing countries.
He said the government had demonstrated its responsibility to the Nigerian private sector, an opportunity to gain registration into the database of the UNSPD.
Hong called on all industry regulators, including the Standards Organisation of Nigeria (SON), National Agency for Foods Drugs Administration and Control (NAFDAC), Nigeria Export Promotion Council (NEPC) and other stakeholders in charge of international export processing and operations, to ensure that all made in Nigeria goods meet the UN standard to facilitate their acceptance by the UN procurement office.