Actor, Saint Obi Goes on Vacation with Daughter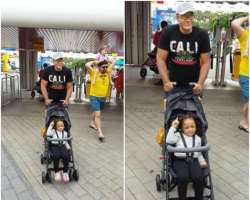 Nollywood actor, Saint Obi, has just proven to his fans that aside just being an actor and business man, he is also that caring man every woman will wish to have.
The actor was recently spotted taking a stroll with his pretty daughter while on vacation abroad. He may not be seen on screen like he used to many years back but he had to diversify and not depend on acting alone.
Aside handling events for some politicians, Saint Obi has also tried his luck in music which has always been another passion and for him, he believes soon things will fall in place in that aspect as he already has about two singles to his credit.