"Count It All Joy" By Mr. 2kay Becomes the Most Downloaded Rbt On Mtn Network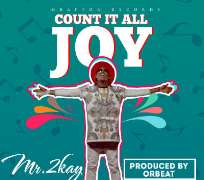 Mr. 2Kay's Hit song, "Count It All Joy" is officially the most downloaded Ring-Back-Tune on the MTN network. This report came in on Friday, May 12, 2017, from the team at MTN top 10 count down – the most credible countdown in Nigeria.
Count It All Joy" was the lead single from his much accepted EP "Count It All Joy". The song is an inspirational and motivational song that details Mr. 2Kay's life and journey in Nigeria's music industry; from when he was being underrated, to the point of his eventual recognition.
It was released on his Birthday, February 11, 2016. "Count It All Joy" has been every music lover's delight on radio, at events and on the MTN music plus platform; it is no surprise, it is now the most downloaded ring-back-tune.
Mr. 2Kay is currently working on his next album which should drop soon and the first single dropping before the end of June 2017. Listen to "Count It All Joy" or Use it as a Ring-Back-Tune: