Actor, Segun Arinze's Daughter Blows Hot, Angry with Father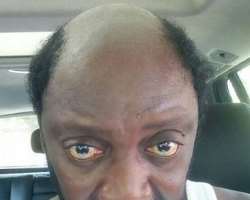 Hmm, this is serious o, Nollywood actor, Segun Arinze, recently played the role of a father by celebrating his first daughter, Renny, who just turned a year older but it turned out that his daughter got upset with him.
What was the reason for this, it's just simple, because he did not know the instagram handle of her daughter and he did not call her on phone to wish her happy birthday. Wow.
Though they might have internal issues probably due to the fact that her father and mum, actress, Anne, are no longer together but it seems she is yet to forgive her dad as she politely asked him to stop celebrating her.
Hmm, it is well, but all the same, her father has played the role he feels he can by celebrating her which goes to show that no matter what happened in the past, he still recognizes her as his daughter as he also chose not to reply her comment.
"What's the meaning of this sir? You didn't tag me, you don't know my IG handle either. You've tagged other people and bloggers and you didn't even have the courtesy to call me to wish me a happy birthday and you're doing this online? What a pity, I would overly appreciate it if you stopped this. God bless. One more thing sir, my mother's name is spelt "Anne" not Ann. Stop being the rain on my parade and stop spreading lies. I have never insulted you, stop these lies," Renny wrote.