WIDEawake Death Row Releases Crooked I "Hood Star"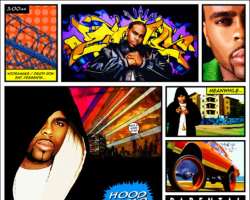 WIDEawake- Death Row Entertainment LLC announces Hip Hop artist Crooked I' s first solo release. Crooked I "Hood Star" set to hit shelves June 15 features 15 unreleased tracks with guest appearances by, Juvenile, Too Short, Sisqo, Danny Boy, Eastwood, Kurupt and Ray J, just to name a few. When first signed to Death Row, Crooked I appeared on a number of compilations such as "Too Gansta For Radio," "Dysfunktional Family," "Tha Dogg Pound's 2002,' and Tupac's " Nu Mixx Klazzics." The Hip Hop artist also took time out to work on sound tracks for the movies, "Ride" and "Caught Up" collaborating with such artists as Snoop Doggy Dogg, Tha Eastsidaz and The Luniz. In 2005, Crooked I created an Internet buzz for himself with "Boom Boom Clap," with the video receiving almost 500,000 hits on youtube. In 2007 he took a different approach to the game with the creation of his Hip Hop weekly internet series, that got him voted the MC with "the best shot of taking over the game" and landed him on the cover of XXL magazine in the fall of 2007. In 2009, Crooked I, along with MC's Joell Ortiz, Joe Budden and Royce Da 5'9" created the group Slaughterhouse and went out on a successful nationwide Rock the Bells tour last summer. Crooked I's popularity has sustained over the years, with over 2.5 million Myspace views and 21,000 followers on Twitter an over 5,000 friends on Facebook, Crooked I has proved he is here to stay.
The force behind Crooked I "Hood Star" and a mentor of Crooked I, is music producer, Big Hutch aka Cold 187um from the multi-platinum group Above The Law. Big Hutch was a producer at Death Row Records in the late 90s, overseeing projects such as 2Pac's album " Until The End Of Time." The multi talented producer works with independent artists helping them find their place in today's Hip Hop community. Big Hutch will be available to discuss the music and the process behind Crooked I's "Hood Star"
Available for Interviews: Producer Big Hutch
For media inquiries please contact:
Sasha Stoltz Publicity
[email protected]
416.579.4804

Follow Death Row Records:

Official Site:
www.deathrowmusic.com
MySpace:
www.myspace.com/deathrowrecords

Facebook
www.facebook.com/deathrowrecordsllc

Twitter
http://twitter.com/deathrowmusic