TOUGH FOR AFRICA!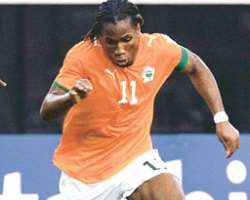 Boasts that Africa would finally deliver World Cup champions this July have given way to a realisation that surviving the first round is a massive challenge for almost all the six hopefuls.
Former stars like Abedi 'Pele' Ayew and George Weah talked before the first round draw of Ghana or Cote d'Ivoire having the potential to go all the way and lift the trophy at the 90,000-seat Soccer City stadium near Soweto.
But the Cape Town pairings offered Africa no favours with Ghana in Group C beside Australia, Germany and Serbia and the Ivoirians even worse off in Group G after getting Brazil, Portugal and North Korea.
South Africa were among the eight top seeds, because they are hosts rather than due to the strength of the national team, but they might as well have been unseeded having drawn France, Mexico and Uruguay in a Group A melting pot.
Algeria, who eliminated African champions Egypt after a play-off, are back at the World Cup for first time since 1986 with little hope of Group D progress against England, Slovenia and the United States.
Nigeria were a little luckier after being paired with Argentina, Greece and South Korea and could finish second behind the South Americans despite the 'Super Eagles' class of 2010 being far from vintage.
Cameroon are probably happiest of the sextet because although the Netherlands are likely to top Group E, the 'Indomitable Lions' can realistically dream of finishing above Denmark and Japan.
And the second round offers no respite for Africa with England, among the title favourites thanks to a Fabio Capello-led renaissance, potential opponents for Ghana and European champions Spain probably lying in wait for Cote d'Ivoire.
If these scenarios are not sufficiently depressing, how about Argentina versus South Africa, Cameroon tackling defending champions Italy, Nigeria up against 2006 runners-up France and Algeria versus Germany.
The furthest Africa has gone in the most watched global sport event is the quarter-finals with Roger Milla-inspired Cameroon making the last eight in 1990 and Senegal matching that feat 12 years later with El-Hadji Diouf to the fore.
Brazil legend Pele, a world champion at 17 who featured in two other World Cup-winning teams, predicted many years ago that an African country would reach the summit by the turn of the century.
But 10 years on he is not sure that even 'home' advantage will be enough and believes all six African contenders for a trophy held by Italy face a tough task dodging a first-round cull that will see 16 teams make an early exit.
'All the African teams have tough groups, but if any qualify for the knockout stage they could cause a surprise,' said the 1958, 1962 and 1970 World Cup medal winner.
African challengers are notorious for conceding own goals with recurring problems including last-minute coaching changes, poor preparations and officials more concerned about their welfare than that of the footballers.
Nigeria and Cote d'Ivoire. hired Swedish coaches Lars Lagerback and Sven Goran Eriksson just months before the finals and neither has played much since the African Nations Cup in Angola last January.
These actions appear to bear out a warning sounded by three-time African Footballer of the Year and Inter Milan striker Samule Eto'o as he prepared for the first World Cup staged on African soil.
'Everything counts … hotels, food, travel, bonuses, the guy who collects the bibs after training … some of our nations remain too amateurish in their approach,' stressed the Cameroon captain.