You Can't Understand Why I Tipped for EFE to Win BBN…Comedian, AY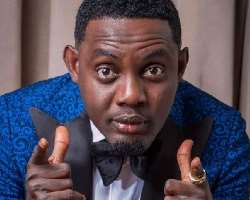 Comedian, Ayo Makun, has come out to explain why he has been campaigning for winner of the just concluded Big Brother Naija, EFE.
The comedian wrote that EFE reminded him of his days of struggle into becoming whom he is today and his story was part of what triggered him to campaigning for him.
According to him, "WHY EFE? I personally took to Efe of BBN because he reminds me of me. My journey from Warri to Lagos was laced with an action plan that I couldn't wait to happen. I was desperately passionate about making my own future, creating my own hope and my ultimate believe in God to help me through it all was completely undaunted.
"My talent till date cannot pass for a 100%, but like my young warri brother Efe, I knew where I was coming from and I also had a complete understanding of the fact that my success story would come through hardwork, perseverance and sacrifice.
"Above all GRACE found my location without using Google map. Efe may not have been the brightest of them all, the same way I cannot even vote myself as the funniest comedian in Nigeria, but experiencing GRACE under the influence of hardwork, sacrifice and struggle will always make you standout. All you need to do is take that bold step and start your journey today."