Community Sues Ebonyi Governor Over Relocation Order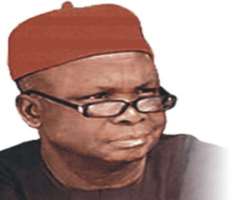 PHOTO: EBONYI STATE GOVERNOR, MR. MARTIN ELECHI.
ABUJA, May 23, (THEWILL) - A community in Ebonyi State has dragged Governor Martin Elechi to the court over his directives to forcefully move them from their ancestral home.
The Ezza community in Ishielu Local government Area of the State in a suit filed in a High Court in Ebonyi State said the Governor does not have the right to relocate them to another location, which they insist is strange to them.
The community is seeking an order of perpetual injunction retraining the Governor from forcefully relocating them to another place known as Egu Echara.
Elechi in 2008 ordered the relocation of the Ezza Community to Egu Echara as a measure to check the communal crisis between the Ezzas and neigbouring communities in the area.
However rejecting the directives the Ezzas said the relocation order is in violation of their rights since they are being forced to abandon their cultural heritage, customs and tradition to a strange place.
They therefore prayed the court to stop the Governor from relocating them to Egu Echara which they say has not facilities such as living houses, schools, market and medical center.
Stating that the relocation order was not in good fate, the community lamented that Egu Echara has no access roads, no portable water and other necessary amenities for their wellbeing.