Actress, Awele Odita Welcomes Baby Boy in US Hopsital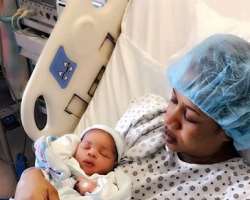 Popular Yoruba, Awele Odita, has welcomed a baby boy from her hubby, Koko Zaria. The pregnancy of the actress has caused an unhealthy atmosphere for many as she has been called all kinds of name.
The actress has been able to remain focus and not allow what people say about her to get to her and her loving baby daddy has also stood by her all along.
While congratulatory messages continue to pour in, the actress took out time to share the good news from her US hospital bed, thanking God for standing by her all through the journey.
In her words, "Today, As Always, I Give Almighty God All the glory as He alone deserves it. I Experienced the Greatest Miracle Known to Man I can't begin to explain the Joy I feel, It's Awesome... I Bless God Almighty for his Protection, Safety And Strength And The Birth Of MY LITTLE KING... MY KING came, with the best of health, blessed, and of course, in God's image. I keep wondering why God is so good to me In spite of all inequities but then God is God and only He understands. I say a very big thank you to my Maker (He deserves all the glory), My Man, Alhaji GANIU OLAYINKA AYINDE OYEDEPO @kokozaria_americaboy for showing me so much love, to everyone who wished and still wish me well, may The goodness of God remain with you and yours. Ire o ni won ninu ile gbogbo wa. #KingIsBoy #BabyBoy #WelcomeToMotherHood."