OLD SCHOOL MUSIC HAVE DEPTH, PHILOSOPHY — BRIGHT CHIMEZIE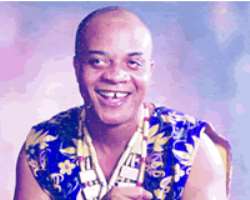 Bright Chimezie
Bright Chimezie, the Zigima master is not new in Nigeria's music scene. He has influenced many with his kind of music. For sometime now, the Okoro Junior has been missing from the stage.
In this exclusive chat with Sunday Sun, he explains what has been happening to him, the concept of his music, his plans for highlife music and others things.
Excerpts:
Let's talk about your kind of music, Zigima Sound, what is the concept behind it?
From the beginning, I knew I was going to play music and I asked myself If I was going to play music, what kind of music would it be? Those days when I was young, we used to listen to Reggae, High life, and all the rest of them but we never joked with our culture. I was a chorister in my local church, a good instrumentalist in our village guards and also a member and instrument player in the larger local tribe dance.
In my secondary school, there were all these cultural influences around me. We formed the school dance band and we started practising all these things. By the time I left secondary school, the cultural influence had so much affected me that I was always trying to strike a balance between western and highlife music. After my secondary school, I traveled to Lagos and started playing with different bands. I was at Mogondola Night Club between 1971 to 1982. I was at Caban Bamboo and from there I heard that the Nigerian Customs and Immigration Service were recruiting musicians.
I became a musician in the Customs and Excise dance band. In fact we formed that band in 1980. I was with the Customs between 1980 and 1985. I resigned from the Customs on August 17, 1985 but I was there when my debut album titled Respect Africa was released. While I was in the Customs, I carved out this Zigima concept. Zigima simply means Ozi I ga-ama in Igbo language. In English it means 'the message you ought to know'. And what is this message you are supposed to know? You are supposed to know that Nku no na mba, n'eghere mba nri in English means 'firewood of a people cooks their food'. And you are also supposed to know that, Ife aka ndu in English means 'nothing is bigger than life'.
These are the spiritual structures of Zigima. Knowing fully well that the firewood of a people cooks their food, it means that good African values must definitely propel Africans to light. And knowing truly that nothing is bigger than life, you need to know that life is God's gift to you and as such you must try as much as possible to live to the glory of God.
Now about Nku no na mba n'eghere mba nri, the Ogbonno soup has been my food here. And it has sustained me all these while and I'm cool with it. Our creator has provided our local starch- Garri and Akpu, but most of our people don't know about these things. So somebody, somewhere must use music to tell them and that is exactly what Zigima stands for. To make our people realize that they are already in paradise. Our problem is that we are looking outside.
The average African wants to travel to Europe and America to work there. That was why in one of my songs I said America dey me far and Europe dey me too far not that I don't like these places but you have to appreciate exactly what comes from here. Then, by the time I left Customs, I had already had an idea of the kind of music I was going to play and the message that would go with it. So, in 1984, I released Respect Africa under Rogers label and that was my debut. It was still on the structures of Ife aka ndu and Nku no na mba n'eghere mba nri. So, most of the jobs I have done from 1984 to date are based on that structure including my latest album which is titled, Because of English.
You just said your last album is titled 'Because of English,' what is the concept behind it?
It is still on the structures of Nku no na mba n'eghere mba nri and Ife aka ndu.
When people like us were growing up, we were taught Igbo alphabets and with the alphabets, we were able to read Igbo language very well, understand the core Igbo and know the values. From the alphabets, we were able to interpret proverbs very well and wisdom lies in that. But you find out these days that the Igbo alphabets have been relegated to the background. And we are gradually shutting the younger generation out
Now, I asked myself: How do I bring people's language back, especially the Igbo language for the people in the eastern part of Nigeria where I come from? Each time I want to come out, I normally do that with a story and this time, the story is: Because of English: my teacher punished me because of English. I recounted a story of what happened while in school. In that school, my teacher said: ' From today, nobody should speak Igbo language; all conversation and every other thing should be in English.' And you know, I'm Okoro junior; I was born and bred in the village and I'm used to my language. In fact I'm very proud of it. Though we obeyed the new law in the school, most of us found it very difficult not to violate it.
So, there was this day Chinyere, the student seated next to me took my pencil and when I wanted to use it, I found out that the girl had it and I said: Chinyere nye m pencil m, oge obula I were pencil m, I decha ihe I na-ede I gaghi enye m ya, Chinyere nye m pencil m, meaning, Chinyere give me my pencil, every time you will take my pencil and after writing you won't return it. My teacher heard it and asked who spoke the vernacular. Every body pointed at me and he asked me to come out and kneel down.
He flogged me and when I got home I thought aloud, 'Oh! My teacher flogged me because of English? I don't know whether he is right or wrong but for a language that is not mine? For a language I was trying my best to learn? Does it mean that he has disregard for my own language? Why should he flog me because I spoke my language?' Then I picked it from that angle. You know Zigima uses stories to illustrate Nku no na mba, n'eghere mba nri and Ife aka ndu.
So, we had to pick it from there, because of English, kids find it difficult to speak their local languages. Because of English so many of them don't even want to stay here again, they want to fly out; even because of English, too many of them don't even go to their ancestral homes any more because they think that there are witches and wizards there.
So, people should think, people should go back to their local languages, people should know the root of their language. That's all about the album.
In one of your albums, you said white men threatened to call the police because you were eating garri with ogbono soup. They said you were trying to commit suicide. Was it a true-life story ?
I am a very creative musician and I believe in African culture and traditions. So I want you to look at the creativity and the story there, not necessarily whether it happened or not. The message I am trying to get across to the people there is that we should be very proud of where we come from. The kind of food we eat, our type of dresses, in fact Zigima is into natural African philosophy. That's what we have been promoting all these years. So, we use stories just like parables and stuff like that. You create a story to illustrate a point, to sell a point.
How did you arrive at what could be going on in the minds of the white men at that point?
Actually, I experienced it to a particular level. There is a way you eat African food and the white man will look at you some how, especially in the 70s and 80s. So, with such looks and as a creative artist, you can then imagine what this person might have in mind. It's work of creativity; it's not totally fiction. I experienced it.
The person didn't call the police quite alright but I configured what was going on in his mind – like if this person could ask me, what are you putting in your stomach? Are you sure you are not committing suicide? Are you laying foundation in your stomach? When such questions are thrown to you, you will understand that if nobody comes to enlighten such a person more, he could call the police. So, the whole story is trying to tell our people that they should exactly be African and appreciate what God has given them.
Your fans have been worried about your whereabouts, where have you been? Have you retired?
I thank God for my life and the lives of my fans. I haven't retired and I can't retire. I haven't even scratched what I have come to do. At this point in time, we are going to take it deep.
Actually, I left Lagos some seven years ago and because Lagos is the centre of excellence when it comes to showbiz, it appears as if you have left the scene each time you leave Lagos. That does not mean I left the scene; I have been very active.
Apart from playing good music, I am also a family man, so I felt that my kids should know where they come from and speak their language because I believe in my people's culture and I play African music. So I relocated to the eastern part of the country. Most people who know that I have stayed in Lagos for sometime might have concluded that I have retired but I want to assure them that I have not retired. I decided to come to Lagos to show myself to the people. Right now, we are going to be doing good shows in Lagos; live performances in Lagos because I am a live musician. In a nutshell, I am back in Lagos
Looking at the Nigeria music industry, what is your assessment?
It is very vibrant, but the problem are the structures on ground. Musicians don't pay attention to Nigerian or African music the way they do to foreign music. Not even foreign music but hip-hop stuff. So, I think the media should play up African brands. People that are very original and creative, people that can set up and power a sound, not necessarily asking computer to do it and you start jumping from one end of stage to the other. People that can put creativity on the stage, if such people are encouraged, I think it will be balanced and the Nigerian music scene will be more vibrant. The industry is coming up and with time we will be there
Highlife seems to be fading away, what is happening?
It depends on the kind of highlife music you are talking about. If you say that most of our youths are leaving highlife for a different kind of music, I can agree with you but if you are talking about highlife being dead, I don't think it's dead. People still dance, play my vibes as old school and stuffs like that, they still buy it. I even thank God that I'm in the present new school after savoring the old school.
Can you compare old school music with the present ones?
We had depth in those days; we were very deep. Even those of us who are still living now, in the lyrical context, when we start pulling sound, there is a philosophy in our songs; there is a story to tell; there is something to tell humanity and there is something to benefit them. And we played the music of our people, the music of our culture. So, all the things we did and are doing now is music we picked from our tradition and culture and we use modern instruments to bring them to a particular level that is acceptable to everybody. The boys now miss the point. Most of us listened to our fathers; people like Rex Jim Lawson, Erasmus Januwari, and Celestine Ukwu.
These were the guys that passed it to a particular generation, that generation passed it unto us and we are taking it to the next generation but getting to our own generation, I don't know what happened. Most of the guys decamped; they couldn't follow the stuff, probably because of western influence. So that is where you have these new crops of musicians. There are a lot of rhythms because of computers but the lyrical content is zero; they cannot play live. They would want an engineer to play their CD and they will jump from one end of the stage to the other and you can't blame the masses because they jumped at what they could find.
Your suggestion on ways of improvement?
I would want to encourage the people that are still playing African music to continue because that is the essence of our living. Whether you play High life, Juju or Zigima sound which is my brand, go ahead as long as it is African music because the people are there.
Why did you leave the Customs?
I left because of Zigima. I felt this is my message.
Do you have any musician in your family?
My late father who was a reverend minister in the Methodist church was a fine singer. My mother who still lives now is a fantastic dancer. So, while I got the voice from my father, I got the dancing steps from my mother.
How was your growing up like?
I had some cultural embellishments. I grew up in the village, just pure natural African village. You look up here you see the church brought in by the Methodist faith, you look there, you see the market square, the small hut that houses the Ikoro- a big wooden drum- beautiful village setting, that's the place I grew up. So, I attended a local church choir, went to a local stream called Ogbalelu to fetch water, took part in the village inter-house sports competition, hunted for bush rats and stuffs like that.
By 70s the music talent had started manifesting, even way back to the 60s. Then I would pick some empty tins of milk and organize a group and they would be beating the instrument. I would be in front while others would line up behind me. So, I grew up doing that stuff and I think that's exactly what is happening right now in my band. I will be in the front with microphone while my strikers will be behind striking out the Zigima song.
My father wanted me to read Mass Communication in the university or law to become a lawyer but I told him that I wanted to play music, so I left my village in 1979 and came down to Lagos and started flirting with clubs. So, in 1980, I had a hint that Customs was recruiting musicians and through the help of one Joe king Kologbo, we got in there and as soon as the recruitment officer saw me, he said 'men I am going to take you; you have got the physique of a musician'. And from there, we started and I became the lead vocalist of the Customs band.
Tell us about your family.
I am married with five children – four boys and a girl. My daughter speaks Igbo fluently. In fact she 'tears' Igbo language. My children also speak very good English .
How did you meet your wife?
Long story but my wife comes from near my village. Her village is just few kilometers away from my place, though we didn't meet in the village, we met in Lagos here. The moment I saw her, I knew she was my wife. Her parents were living in Lagos and I visited them and saw her.
What about your siblings?
They are there. In the line up of seven children, I am the last; three men and four beautiful women, now married and happy in their respective homes.
When did you start music professionally?
1980, but I have been playing in the 1970s while I was still in secondary school.
What's your advice for the upcoming artistes and word for your fans out there?
Let them be very original, no matter the circumstance. Let the talent be there; don't just jump into music because others are there. For my fans, I am Zigimatically potent and Zigimatically back especially for Lagos fans.