I Got Married to Another Lady so I Can have Access to My Son…Actor, yomi Fabiyi Confesses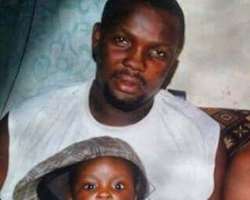 Criticizing some of these Nigerian celebs might not be the option but the question should be what was their purpose of getting married or impregnating a lady in the first place?
These days, the level at which one gets to read news of failed marriages or babymama is just so alarming that it raises various questions while some will even bring in spirituality into it.
Hmm, it is well with these guys in entertainment because lots of fans look up to them only to get disappointed at the end over the turnout of things with funny excuses anyway.
Recently, Nollywood actor, Yomi Fabiyi's son, Moyinoluwa Jeremiah Oluwametomi, turned a year older but not close to his father neither does he have any idea of how grown his son hi.
He made this known while celebrating him on social media with revelations that he does not even have pictures of his son but relies on stolen pictures from people.
Yomi even confessed that he had to get married to another lady to enable him have civil access to his son yet the son's mother and her allies will not allow things work out.
"Happy Survival Day to my first seed MOYINOLUWA JEREMIAH OLUWAMETOMI YOMI FABIYI Jnr. You survived yet another year, you shall survive more. I wait for the day you are going to call me, introduce yourself or walk up to me and call me daddy. My son I can hear you crying from a million miles away, calling daddy but there is no answer. I know why, u have my blood running in your veins
"I did all I can to have access to you. I married your step mum among other things so I can have civil means to gain access. I cried on every birthday of yours and I pray I don't have to do this next year. Hopefully, your mum will separate her anger towards me and your innocence. I never wronged you and if I ever did, this is no reason to block me off completely 6yrs plus now," he wrote.