Ex-beauty Queen, Adaee Yobo Shows off Breastfeeding Skills on Social Media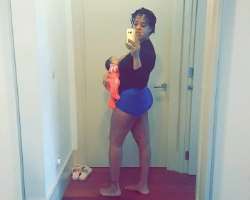 Lots of people have achieved great things through the use of social media while some believes that the medium can be used to show off part of their private life which should have been kept secret.
Just like some people who love updating whatever activities they carry out on social media, ex-beauty queen and wife of ex-Super Eagles Defender, Joseph Yobo, Adaeze, is not difference.
Adaeze recently decided to show off the way she is breastfeeding her child on social media and this left many ladies wondering what social media is gradually turning into and what she is trying to teach other women.
See what Social media has caused. A baby can't take her breast milk in peace without having her mum post the activity online.