Why I recorded my phone conversation with 9ice –Ruggedman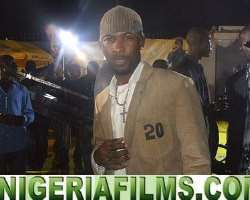 The 9ice/Ruggedman controversy is still raging. Ruggedman had been fingered as the reason behind the break up of 9ice's one-year old marriage to Toni Payne, and a lot of people have insinuated that 9ice was referring to Ruggedman in his controversial song, Once Bitten Twice Shy, where he talked about his woman having oral sex with his friend. Many people are still condemning Ruggedman for recording his phone conversation on the issue with 9ice and going as far as posting it on the Internet.
However, in an e-mail sent to Life and Beat earlier in the week, Ruggedman, who said he was in London shooting some videos, explained the reasons for his actions.
According to him, it was never his intention to go that far, "but I decided to do so as a backup since I still can't get the reason why he (9ice), as a friend, hadn't come out to publicly clear up the sick rumour started by his song.
"I guess the decision to let people hear the conversation and hear 9ice himself saying he was not talking about me or Toni Payne in the song, was reached when he admitted it to me but bluntly and arrogantly refused to go public with clearing up the name of his friend and the mother of his child, especially since he admitted nothing of the sort ever happened."
Rugged said he didn't care who 9ice was referring to in the controversial song.
"I guess it's a personal experience he had. That is not my concern. My concern was that people and even some soft sell magazines were pointing fingers at me as the person he was talking about in the song. That is not the type of person I am, and I don't want families, friends, fans and business partners seeing me as that. Unfortunately, for reason(s) best known to him, he admitted to me that it wasn't me or Toni Payne. But he has still refused to clear my name. I was left with no choice but to let people hear him say it himself. That was why I put out the conversation on the Internet. People have now heard him admit it was not me or Toni Payne he sang about, and that's all that matters to me. I still got mad love for him and his music, but his behaviour was bad," Rugged said in the mail.
When contacted, 9ice, through his publicist, Black House Media, said they weren't ready to make any comment on the controversy.
However, it looks as if 9ice is making all the gains with the brouhaha. Life and Beat gathered that his latest album, Tradition, which contains the controversial song, has sold more than a million copies, as many people are curious to know what the artiste actually said in the song.