ACTORS GUILD OF NIGERIA (AGN) LAGOS BACKS PATHETIC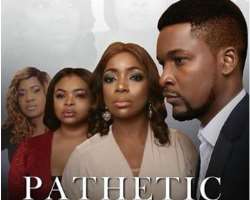 Bearing any unforeseen, the much talked about and highly anticipated film Pathetic will be released to the cinemas from March 24 and all Actors under the auspices of Actors Guild of Nigeria – Lagos Chapter has mandated its members to go watch the Film at the cinemas. as produced by versatile and multi-award winning Actress cum producer, DayoAmusa.
Speaking during a chat with entertainment reporters in Lagos, Chairman Actors Guild of Nigeria – Lagos Chapter Don Pedro Aganbi said that all members of the Guild in Lagos have been advised and sensitised to go watch the Movie at the cinema from March 24, when it will be officially launched nation wide. "Pathetic by DayoAmusa deserves commendation and accolades because of its unique style, plot and dept. It's a racy-pacy film woven with lots of intrigues and suspense that exposes the struggles celebrities face even with those they call family and friends. The secret pains, thetravails, themisconceptions, theexploitations and the miasma. Supported by a star studded cast and crew of gaf­fers and production team, and enhanced with exquisite mood lighting, the film, Pathetic has but one guarantee, solid tech­nical quality that will deliver the num­bers from a discerning population to discerning brand! More so, it will arouse curiosity and invariably impact teeming viewers in terms of total recall or retrospect. I therefore recommend this Film "PATHETIC" to all Actors, their families and loved ones in Lagos state. It is a must watch at the cinemas from Match 24, 2017 " Aganbi posited.
DayoAmusa who is also the Vice Chairman of Actors Guild of Nigeria – Lagos Chapter is known to produce world class movies. Her latest flick, PATHETIC starredBimbo Akintola, WoleOjo, Toyin Abraham, FunshoAdeolu, Toyin Alausa, TaiwoOkunlola, AnuShodanya amongst others.