Nollywood unites for the Amatas' matriarch @ 80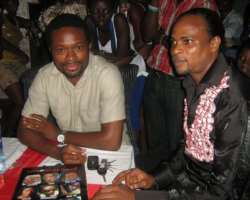 Towards planning a befitting 80th birthday bash for Ma Joy Omotoyinbo, the matriarch of the Amata movie dynasty, some concerned friends, colleagues and associates within and outside Nollywood are already working round the clock and mapping out strategies for a successful and memorable outing.
Leading the team is Mr. Elkanah Mowarin, the prime mover and boss of Proudly Nigeria and celebrities United. Speaking at a recent media parley, where he alongside Fred Amata and Iyen Agbonifo-Obaseki unveiled the programme of events for Ma Amata's forthcoming birthday, Mowarin, posited that the need to honour Ma Amata on the occasion of her 80th birthday could not had come at "any time better than now." Adding that, she deserves to be hugely celebrated as she enters the elitist octogenarian club.
Born on May 20, 1930, in Delta State, Ma Joy was married to the late Pa Ifoghale Amata, the first Nigerian and African to shoot a Celluliod film (Freedom). They together sired seven children with one of them now deceased. Among their children, most of whom are renowned filmmakers today, are: Zack, Alex, Erumena, Fred, Ruke and Elomai. And of course, a proud grand son, Jeta Amata, the first son of Zack.
According to Mowarin, who's planning the bash in collaboration with the Amata family, they initially wanted to make it a low-key affair, but he prevailed on them to allow Nigerians come together and celebrate the birthday of a great woman, whose children and grand children have done the nation proud in various fields of human endeavours.
The celebration begins with a reception/dinner at the Banquet Hall, National Arts Theatre, Iganmu, Lagos, on May 29. "There will be a reading of her citation, showing of a special documentary on her as well as the presentation of a special plaque to her. We will equally unfold a project in her honour at the occasion. Also, as part of the activities marking the event, we would join her to visit the Heart of Gold Children Hospice in Surulere, to play and present gifts to the inmates.
The celebration will climax on May 30, with a special thanks giving service in her church. We are inviting all well-meaning Nigerians to join us in celebrating this great mother who is also an accomplished actress," disclosed Mowarin.
Also speaking at the event, filmmaker and public analyst, Zik Zulu-Okafor, congratulated Ma Joy Amata, and urged all, especially his colleagues in Nollywood, to come out en masse and join them in celebrating the mother of one of the biggest filmmaking dynasties in Nollywood and indeed, Africa.