Singer, Daddy Showkey Set to Start New Building in Ajegunle (photos)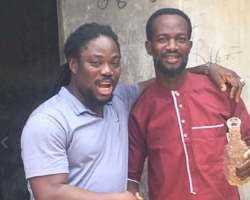 Legendary singer and 'Galala' crooner, Daddy Showkey, has continued to prove that he is a master in his craft and no matter his status, he can't forget his roots.
The singer is one of many who can boldly walk around the vicinity of Ajegunle without any form of fear because he started part of his life and musical career from that area which in turn gave hope to many rising stars.
Just releasing a new single about a month ago, the singer has just made plans to execute a project he has been nursing for a while now as he is about to begin work on a new building in Ajegunle.
The singer had a mini property in a part of the locality at Ajegunle and rather than allow it to remain fallow or being taken over by miscreants, he has decided to develop the property which has already gotten the blessings from God.
In his words, "Today I Start My House in AJ and the Great Pastor Sunny came to bless the house before we start working #showdonshow #ajegunle #daddyshowkey #lionclan #asalamamovement #ghettosoldiers"