Report reveals That Actor, Prince Uche Developed Strange Blisters 3 Days After Getting his Visa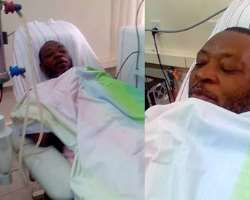 Ailing Nollywood actor, Prince James Uche, has finally gone to rest after battling with Diabetes Blindness, BP, and kidney issues.
The actors cry has been in public for a while now as Nigerians have tried at ensuring they contribute their quota to save his life.
Well, the late actor had just collected his Visa three days before his death as he was scheduled to travel to India on the 11th of March 2017, for the treatment.
According to reports, "We regret to be the bearers of this sad news, but our COLLEAGUE, father, husband [PRINCE JAMES UCHE) passed on [Wednesday] from complications following Diabetes Blindness, BP, kidney. He has been experiencing fever, strange blood infection, and strange blisters on his legs for the past three days after he secured his Visa before he passed on today Wednesday March 8th in the Ambulance on his way for Dialysis at 2:15pm. He was meant to travel this Saturday March 11th to India for his surgery. We sincerely want to thank everyone who donated to save this great man...we shall keep you all posted."