February 15, 2017

| AMEBO
I'm Glad I Got a Second Chance to Love Again…Daniel Ademinokan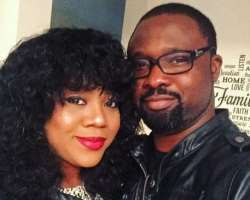 Popular music and movie director, Daniel Ademinokan, has been able to manage all the criticism that has trailed him and his actress wife, Stella Damasus, and they are now happy together.
Daniel decided to mock those that have put him on blast in the past by stressing that making the decision to marry Stella was not a mistake.
He explained that since she came into his life, things have been going down well for him as she has been that supportive wife and a good mother to their kids.
"While people across the Atlantic are waiting for the announcement of a wedding date, I celebrate you today my beautiful WIFE Stella Damasus. You came into my life and gave me the right perspective. Thank you for being such a supportive wife, a remarkable mother to our kids and the glue that holds this home together. EVERYBODY deserves another shot at getting it right with love. I'm glad I got my second shot. Thank you for loving me the way you do. Even when I do things that deserve time out in the microwave, you love me still. Every single day, I just can't wait to come home to you because you are my SAFE PLACE. With you, everyday is Valentine's Day. I love you," he wrote.