Actor, Tchidi Chikere Makes Full Commitment to Wife Nuella Njubigbo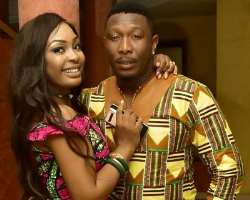 Handsome Nollywood actor, Tchidi Chikere and his wife, Nuella Njubigbo-Chikere, has seriously become an item of love that cannot be separated as their bond continues to get stronger by the day.
In the celebration of love, the two Nollywood love birds could not hide how they feel about each other as Tchidi, out of his busy time showered messages of love to his woman.
The actor wrote, "Honey I will be Loving you TILL WHEN MY HAIRS ALL BUT GONE AND MY MEMORY FADES...because HONEY YOUR SOUL COULD NEVER GROW OLD..IT S EVER GREEN!! (not in town but been playing Ed Sheeran s THINKING OUT ALOUD in my head all day just for you...Nuella Njubigbo."
Tchidi and his wife have both gone through difficult times together and they indeed truly deserves to be happy with each other no matter how people tend to perceive them.