Actress, Sugar Chika, Hubby Shows Their Romantic life in Public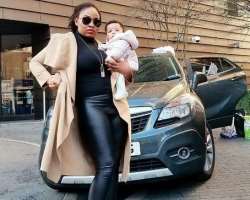 It is indeed good to marry right and having your spouse as a best friend and for Nollywood actress, Sugar Chika, it is no difference as she has been enjoying her marital home since getting married in 2016 to her long time partner.
The actress aside enjoying her home and welcomed her cute baby several months back and that also helped in creating more noise in the home while they seat back to watch the little man grow.
Like the popular Bible saying that 'He that finds a wife, finds a good thing and obtain favour from the Lord,' the actress and her hubby are now enjoying the favour of God as they had a family time together recently to mark the beginning of their Valentine's Day celebration.
Celebrating her happy home, she said, "True love, real love will bring you closer to God. A love from God will feel like Christmas every morning, valentine's day every afternoon and every night as amazing as new years eve! Get right to God and be good to others."