Singer, Skales Dares Nigerian Army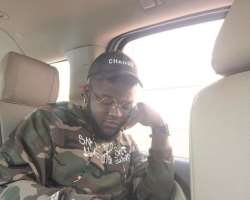 Just recently, a viral video went round showing how the Nigerian Army were beating up a disabled man for wearing the cameo now singer, Skales has come out to dare the army.
The singer boldly rocked his Cameo sweater as he steps out for an interview session but hey, who cares, since he is a celebrity, they might not touch him.
But wait o, since the army are that strong on civilian, why can't they get into the forest to fight insurgents rather than stay on the road to beat up innocent civilians.