Checkout Mr Ibu Wife's outfit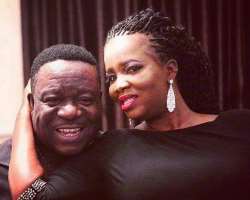 Comic Nollywood actor, John Okafor better known as Mr Ibu, is really teaching those loking up to him what it takes to love a woman.
The actor seems to spend more of his leisure time with his woman and anytimes he feel tickled while she takes a walk around, he becomes creative and shares things about her.
Recently, he celebrated his wife's birthday and just last week, he celebrated his son's birthday, yet he is not satisfied as he shared his wife's picture as she looks sexy in her outfit.
Truth be told, Mr ibu is indeed a lover boy and you will agree that some of these old man can be romantic and that is what he has been using to rekindle his love all the time with his woman.