Clarion Chukwurah Steps out with Hubby Looking Sexy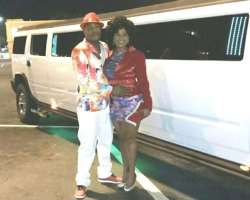 Nollywood actress, Clarion Chukwurah Byod, is seriously enjoying her new marriage with her husband, Anthony Boyd, that she cannot stop gushing about him every time.
The actress seems to have missed what they call real love from all the men she has gone out with but for her new husband, things have been different as she now enjoys the caring she so desired from a man.
Clarion and her hubby recently stepped out in a Limo and she was looking so sexy which is another means she uses to hold her man.