Women Should not be Raped Because She Took Drugs, Alcohol…Actress, Omo Butty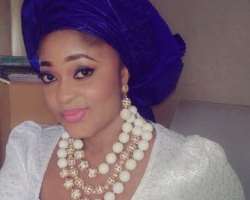 Pretty Nollywood actress, Biodun Okeowo better known as Omo Butty, is currently warming up to join the campaign against rape in the society and she has decided to share her thought on the issue.
The actress stressed that rape is a terrible crime which occurs on regular basis while pointing out that the best way to go about rape issue is not by educating women on how to defend themselves but to teach the men not to rape.
She warned that a woman being drunk in alcohol or on drugs does not give the man the mind to rape rather he should help her to relax.
In her words, "Rape is one of the most terrible crimes on earth and it happens every few minutes. The problem with groups who deal with rape is that they try to educate women about how to defend themselves. What really needs to be done is teaching men not to rape. Go to the source and start there.
"Now, should we treat women as independent agents, responsible for themselves? Of course. But being responsible has nothing to do with being raped. Women shouldn't get raped because they were drinking or took drugs. Women do not get raped because they weren't careful enough. Women get raped because someone raped them. When you see a vulnerable woman, help her don't rape her."