How Femi Kuti Refuses to Send Son Abroad to Study Chooses UNILAG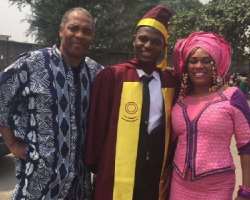 Afro-beat singer, Femi Kuti, has chosen to lead by example as he decided not to send his son, Kwame, abroad to study like some of Nigeria's political leaders have been doing while neglecting it's education system to perish.
The singer ensured that no matter the challenges the country's educational system was facing, his son is able to adapt and push through to be able to survive in any country.
Recently, Femi's son, was part of the students that were graduated from the University of Lagos, UNILAG, and his father along with Yeni, were present to appreciate him for them them proud.
Femi could not hide his feelings as he decided to share the good news, "Kwame Joseph my Son who I've taken care of since his JSS 2 graduated today in unilag. Made me very proud & showed most just need a little."