Actress, Maureen Solomon Shows off Aged Mother with Great Swag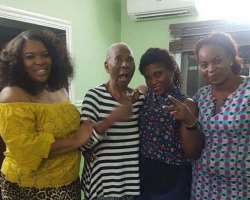 Aside her hubby and Kids, if there is that one person that popular Nollywood actress, Maureen Solomon Okereke, will like to spend more time with, then that will be her pretty aged mother.
The actress recently brought her mother over to the house where she and her sisters spent time making her happy.
Maureen's mum should be about 87 years and above in age but she is still able to stand alone and put up some swag as she enjoys the new age of technology with her daughters.
There is nothing as beautiful as having a good and united family with strong bond and God strength. Good for her and their household.