5Star Record Label Boss, E-money Shows off his Expensive Phones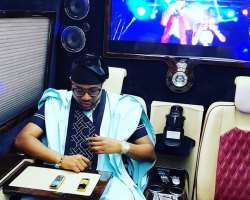 Not too sure with the prices of the phones but Five Star music boss, E-Money, sure has taste for good things and he has not stopped flaunting what God has been doing for him.
The record label boss early today shared some good prayers for his fans while displaying the number of phones he uses and sure, as a business man, he needs different mobile phones in case any of them crashes.
While, he worked hard to get to the level which he has gotten to and once a while, he has not stopped extending a hand of fellowship to others.