Shoggy Tosh Gives Out His Song's Free Ringtones As He Clocks 43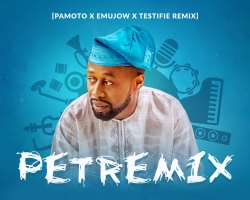 Shoggy (born in Birmingham, United Kingdom on 9 January 1974) is a multi-award winning rap artiste, publisher, producer, author and television presenter mentored by Rev. Tim Omotoso.
He is also the founder of The Official Stars Homepage Magazine, TV & PR. On 9 January 2014, he released his debut rap single, 'emujow' featuring Shady Blue and Jamaican gospel dancehall star, Dunamis Reignz.
Since then, he has released 'Pamoto' featuring Henrisoul, 'Testifie' featuring Lara George, and 'PET Remix' featuring Dunamis Reignz, Shady Blue, Henrisoul & Lara George.
Shoggy Tosh who recently won his 6th international music award as the Afrobeat artist of the year at the 2016 Gospel Xplosion Music Media Awards in United Kingdom is set to release his debut music EP in 2017.
Here are the ringtone downloadable links. Only the first 1000 can download it for free.
Androids Ringtones (mp3 format)
PET REMIX RINGTONE 1: http://bit.ly/petremix1rt
PET REMIX RINGTONE 2: http://bit.ly/petremix2rt
EMUJOW RINGTONE HOOK: http://bit.ly/emujow1rt
EMUJOW RINGTONE 1: http://bit.ly/emujow2rt
PAMOTO RINGTONE HOOK:��http://bit.ly/pamoto1rt
PAMOTO RINGTONE 1: http://bit.ly/pamoto2rt
TESTIFIE RINGTONE HOOK: http://bit.ly/testifie1rt
TESTIFIE RINGTONE 1: http://bit.ly/testifie2rt
iphone Ringtones (iphone format)
PET REMIX RINGTONE 1: http://bit.ly/petremix1iphonert
PET REMIX RINGTONE 2: http://bit.ly/petremix2iphonert
EMUJOW RINGTONE HOOK: http://bit.ly/emujow1iphonert
EMUJOW RINGTONE 1: http://bit.ly/emujow2iphonert
PAMOTO RINGTONE HOOK: http://bit.ly/pamoto1iphonert
PAMOTO RINGTONE 1: http://bit.ly/pamoto2iphonert
TESTIFIE RINGTONE HOOK: http://bit.ly/testifie1iphonert
TESTIFIE RINGTONE 1: http://bit.ly/testifie2iphonert
SOCIAL LINKS
Twitter: @ShoggyTosh
Instagram: @ShoggyTosh
Facebook: Shoggy Tosh