I Never Knew I will be a Father One Day…Actor Junior Pope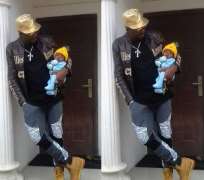 Everyone in this life has had a past which has either affected them positively or negatively but the important thing is their ability to realize on time and get a new life like Nollywood actor, Junior Pope.
The actor is a proud father of two children and legally married to his wife but many never believed in him due to his way of life and yes, Pope was that bad boy.
His various movie roles were a replica of his real personality but today, he is proud to live to tell the story as he pointed out that he never believed that he will be alive to become a responsible father.
He warned that people should not wish to live the kind of life he had lived before because they might not get the second chance he got from God to be a changed person.
In his words, "Due To The Life I Lived In the Past, I Thought I Was Going To Leave Earth Without An Offspring; Now That My Life Is this Beautiful, It Explains My Joy Seeing How God Gave Me A Second Chance.....(I THANK YOU LORD)."