How Economic Recession is Affecting Mercy Johnson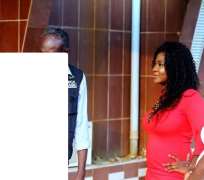 If some Nigerians are asked what they love about their country they might probably say that the ability to turn every sad situation into fun just like the movie 'RECESSION BUSINESS' featuring Mercy Johnson.
The actress after celebrating with her family immediately moved to movie location where she is on set a comedy movie which talks about the country's economic meltdown.
Trust Mercy, that is just the kind of movies she likes taking part in where she will be able to exhibit her funny act on screen and really her dexterity has been part of what has been earning her various movie roles.