Hospital Threatens to Throw Nollywood Actor, Prince James Uche out by January 2017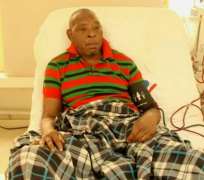 Things have been tough for a while now in the country and this is indirectly or directly affecting those who are ever ready to lay a helping hand to others but Nollywood actor, Prince James Uche, is yet to get such help.
Prince James Uche, has been ill for a while now and despite the plea to the public, he has not been able to get any help except from some kind people who come around to support with feeding and minor medical bills.
Of recent, they told the actor's son that they can no longer support them because they are also having challenges they need to meet up with and now the son has resulted in begging Nigerians and governor of Abia state, to come to their aide to save their father whom the hospital have threatened to throw out by 3rd of January, 2017
According to the plea by Prince James junior, he wrote; "Living a happy life of contentment was our family's greatest plan until our father Prince James Uche fell sick; everything changed.
"Our lives and that of dad has been under the mercy of some Good Samaritans who has assisted us all these while in paying dad's hospital bills; clothing us and making sure we feed twice or thrice a day; but today we're helpless as the Samaritans says they've also ran out of resources to continue dad's treatment.
"Now we're homeless and helpless as the hospital where we live our small lives with dad threatens to throw us out on January the 3rd 2017 if no one harken to our cry. We are only kids and can't help the situation; even going to school is a thing of the dreams to us now but We call on the good people of Abia State and our great nation Nigeria for help!."
SIGNED UCHE JNR PRINCE JAMES.....