Come Let Us Adore Him By Busola Martins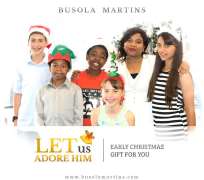 "Let us adore Him" reminds us that baby Jesus although born a King is our mighty deliverer, Prince of peace and joy of the whole world.
This an early Christmas gift from Busola Martins to you, it is a call to worship Jesus, the reason for the season. Celebrate Jesus!
Download link: https://goo.gl/AfJlCq
LYRICS
Let us adore Him
Let us adore Him
Worship Christ the King
O come, all ye faithful
Joyful and triumphant
O come ye
O come ye to Bethlehem
Come and behold Him
Born the King of angels
Chorus:
Let us adore Him (3x)
Christ the Lord
Let us adore Him (3x)
Christ the Lord
Sing, choir of angels
Sing in exultation
Oh Sing, all ye citizens
Of heaven above
Glory to God
In the highest heaven
Chorus:
Let us adore Him (3x)
Christ the Lord
Let us adore Him (3x)
Christ the Lord
Let us adore Him (3x)
Christ the Lord
Let us adore Him (3x)
Christ the Lord
Bridge:
Emmanuel God is with us
Counsellor, Prince of peace
Our Saviour Mighty deliverer
Redeemer, Joy of the whole world
(Repeat 3x)
Let us adore Him
Let us adore Him
Christ the Lord
Let us adore Him
Oh adore Him
We adore Christ the Lord
CONNECT WITH BUSOLA MARTINS
Twitter: @MartinsBusola
Instagram: @Busola.Martins
Facebook: BusolaMartinsGlobal
Website: www.busolamartins.com