Winning Jah  agreed to perform only 1 mega concert in 2017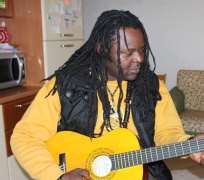 Reggae Super star, Kingsley Eno Osagie, known by his Stage name Winning Jah, appealing to all his fans worldwide about 2017 Music performance.
He amicably declared is only 2017 upcoming concert at the ILO International Campus (equal rights Concert). wth a special invitation from the Guest relations - Mrs. Marja-Riitta Kemppainen on behalf of the ONU institution, Winning Jah has accepted this offer for Educational reasons and social awareness, any further concerts has been prosponed till further notice.
100 songs Project activated for 2017-2018 complex Album featuring most wanted authors, Music icons. Titiled "Problems & Solutions" For this reasons, hard work for a special delivery is the key, he promised to send a happy new year live video on his facebook mention verified fanpage on the 1-1-2017 " https://www.facebook.com/jahwinning " to all his fans, family and co musicians, same time ready to answer your questions if any.
Winning Jah wishes you all a Priveledge new year.
International Training Centre of the ILO located in Turin
International Training Centre of the ILO
Viale Maestri del Lavoro, 10 - 10127 Turin, Italy