Why 9ice's marriage broke down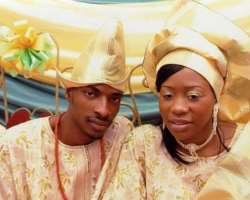 •Reason radio DJ sided Tony Payne
•Tony to ID Cabbassa: 9ice used me
•ID Cabassa: I did not get any text from Tony
Facts are beginning to emerge on why hip-hop artiste 9ice and his wife, Tony Payne broke-up. The showbiz couple who announced their break-up via a press statement from 9ice's publicist in January 2010, got married on Thursday July 17, 2008 after Ruggedman introduced the couple in 2006.
Before they broke-up, the couple was seen as the ultimate couple owing to their rising profile in their choosing profession.
9ice was collecting awards and smiling to the bank as his music found favour in the market while Tony who has been around the industry as make-up specialist, designer, and artistes manager was getting well-deserved accolades. Not a few predicted that they were meant for each other for life; but they shocked us all when they announced they were going their separate ways. Expectedly rumours started flying around as many said 9ice dumped his wife after making money. Others said he was beating his wife and chasing other women.
Almost everybody was on Tony's side. But after the release of 9ice's album, Tradition, people started pointing accusing fingers at Tony Payne and Rugged Man as true causes of their breaking-up. People alleged 9ice caught her in bed with a friend of his as the lyrics in his song, Once beaten twice shy suggested. In the song, 9ice said he caught a lover giving his friend blow job. Tongues started wagging and people alleged it was Ruggedman the singer was referring to.
But we can reveal that the couple broke up because 9ice later heard that Tony had dated lots of people in the music industry without telling him. A source in the music industry revealed that before their marriage, Tony dated quite a number of prominent musicians and one particular producer but failed to tell 9ice. Unknown to 9ice she had also dated some of his friends too and it was not until after a year into the marriage he discovered. The incident led to constant arguments and eventually ended their marriage.
Immediately after their breaking-up, radio DJs decided not to play 9ice's music in solidarity with Tony, because most of them knew her before 9ice and felt 9ice kind of used her to get necessary contacts to advance his career and dumped her. They said the story that she dated lots of people in the industry before marrying him was an open secret and accused 9ice of knowing long before the marriage.
They refused to play his music for long fuelling a talk that the new album was a flop even after the CD had sold over two million copies. It took 9ice's management all the efforts to stem the tide and the introduction of Gbamu Gbamu's video worked for him and the public is loving his songs again.
Tony was said to have sent a text to ID Cabasa, a close friend of the family claiming 9ice used her to climb the ladder of success and dumped her. Cabasa in a conversation with us said he did not receive any text as he only got to know about their breaking-up in the papers. "My brother, I don't want to say anything on this matter because I got to know about their separation in the paper like everybody. I have asked questions and I did not get any response. As per the text from Tony, I did not receive any text" he said.
In a conversation with Tony's publicist, Adebola Williams, he said she does not want to say anything about it, because she wants to protect their song as whatever she says would affect 9ice a great deal and she doesn't want to pull down a brand she helped build.
9ice has been accused of unnecessarily fuelling the rumour of alleged affair between Ruggedman and Tony by not coming out to clear the air on the matter. His cronies have insisted despite several attempts that mum is the word for them.