Rukky Sanda Blessed with the Sexiest Curves? (Photos)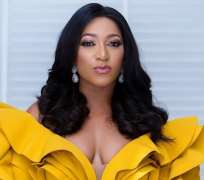 Nollywood actress, Rukky Sanda, is doing well for herself with her acting and production but that has not stopped her from investing in herself and her beauty.
She has continued to intimidate many with her beauty and curves and she is not slowing down but hey even in the recession, she is still on point.
Many may look but see different things but in the body of the actress, you can't miss her curves as it shows in whatever outfit she steps out on.
Take a look at it yourself and judge sha oooo