Emmanuel Emenike celebrates Mother as She Adds Another Age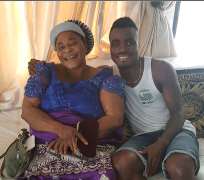 Nigeria's international footballer, Emmanuel Emenike, has been working hard to make his family happy and that he has constantly done without complain.
While avoiding cooking at home while young, he chose to play football only to come back to ask for his food which he always get but today, his story has changed.
The woman behind that food who happens to be his mother is what makes the player proud because she to some extent believed that his future is bright and now she is reaping the fruit of her labour.
Today, Emmanuel's mother is a year older and the player decided to show off his mum to the world, appreciating how far and how God has kept her all through the years.