Singer Banky W, Jumps out of Moving Helicopter.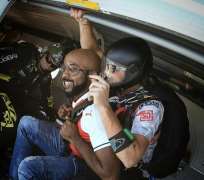 When you are rich there is nothing in this world you will need that you will not be able to achieve and singer, Banky W, is just enjoying himself on a solo effort.
The singer has been on vacation in Dubai and he has been having all the fun he can before he returns to the country to continue unfinished jobs on some of his songs.
Part of the fun was when he shared picture of his sky diving and trust me; he will not do such alone as he had someone to protect him while they jump of the Helicopter.