UN SECRETARY-GENERAL APPEALS FOR MIGRANT FRIENDLY-POLICIES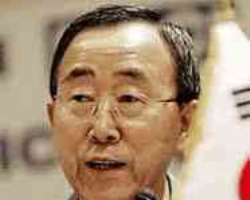 Ban made the call in a message to commemorate the International Day of Families, observed on May 15.
He said although migrants were contributing to the economy of their host countries, they faced harsh living conditions, discrimination and low wages.
'They often lack safety nets and suffer disproportionately in times of economic hardship.
'Unemployment can push many to the bottom rung of societies.
'Children of migrants can face a number of emotional and economic challenges unique to their circumstances, in particular a greater vulnerability to human trafficking, child labour and violence,' he said.
The Secretary-General, therefore, called on states that were yet to ratify and implement the International Convention on the Protection of the Rights of Migrant Workers and Members of Their Families to renew their commitment in that regard.
'On this International Day of Families, let us renew our commitment to efforts that help and support migrant families around the world,'' he said.
The UN correspondent of the News Agency of Nigeria reports that this year's commemoration of the International Day of Families focuses on the impact of migration on families around the world.