Why Kanye West Might Boycott The 2017 Grammy Awards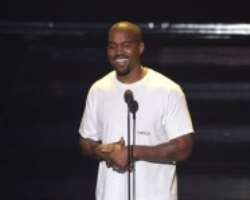 Kanye West has handed out a condition for him to be present at the 2017 Grammy awards.
The 39-year-old during a concert Saturday night in Oakland, USA said that he plans not to show up to the Grammy Awards next year in Los Angeles if singer Frank Ocean is not nominated for the albums he put out this year.
Blonde and Endless were the albums released by Frank Ocean, and neither has been nominated for a Grammy because his  labels and management neglected to submit them for consideration for the awards.
Kanye West also told the crowd that artists needed to come together to fight for each other.
He said:

"Wait, wait, hold up while I speak on my brother for a second. My brother Frank Ocean. So, you know they didn't put his album in the Grammy nomination, right? So, I don't know if any of y'all remember but I was supposed to go on a tour with [Lady] Gaga about six, seven years ago – it was something where she was nominated. She wasn't nominated for 'Best Artist' but they wanted her to open so the Grammys secretly changed something about the nominations in order to nominate her for her to perform at the show. Now, Frank Ocean on the other hand, is very vocal and his album wasn't nominated for a Grammy. And since it's vocal, nobody wants to say nothing about, no one wants to do nothing about and I'm saying this to y'all because a lot of people try to make it as if I'm self-centered. The album I listen to the most this year is Frank Ocean's album. And I'll tell you what, I'll tell you this right now. If his album's not nominated in no categories, I'm not showing up to the Grammys. As artists, we have to come together to fight the bullsh*t they've been doing to us for years. All we need is a fair shot."