See how creative plus-sized model gets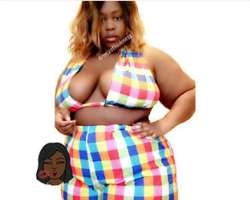 By Ayo Onikoyi
It seems slim models have had their days and the big and curvy ones are taking over. All over the world, the idea of only 'slim is beautiful' is wearing thin as more and more people are building the awareness that big, plump and curvy is just as beautiful.
One of the plus-sized models pushing this idea with gusto on Instagram is Nigeria-born, Germany-based model, Deborah Olawoyin, who owns her own online clothing store and also models for it. She's a hair stylist, a fashion designer and entrepreneur.
In one of her brainwave sessions, the model put together a design she thought was cool and posted on Instagram. "This is what happens when I'm bored and not working – I get creative (Ideas pop up when I'm supposed to be asleep) the top needs more work but I'm loving the outcome so far. #fatandfabulous #bigandbeautiful. What do you think?