Prince Olusegun Adeleye joins Ekiti gubernatorial race under new party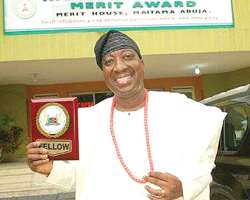 By Ayo Onikoyi
Though it is still a long way from 2018 when Ekiti people will choose who will be their next governor, the political landscape is beginning to wear an apparel of seriousness as contenders to the state's number one seat are beginning to show their faces.
One of such personalities is Prince Olusegun Adeleye, the Aare Akeweje of Ijero-Ekiti. He is currently the National President of The Voice of the True Patriots Foundation. Prince Olusegun Adeleye
Prince Adeleye who is contesting under neither APC nor PDP, but under a new party, Alliance of Patriots (AP) registered days ago by Independent Electoral Commission, INEC, is joining the governorship  race with what he called "Five Fingers of Faith".
According to him, his "Five Fingers of Faith" encompasses: education without tears; mass agricultural revolution; women and youth empowerment; industrial and economic recovery of Ekiti State; security and social services.