ELECTION PETITION: NGIGE WINS ROUND ONE AS TRIBUNAL THROWS OUT OBI'S OBJECTION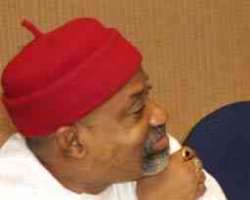 Chris Ngige
Efforts by the Action Congress and its candidate in the February 6, 2010 governorship election in Anambra State, Dr. Chris Ngige, to overturn the election of Mr. Peter Obi of the All Progressives Grand Alliance received a boost on Monday at the election petition tribunal, which ruled that Ngige's petition was valid.
The Anambra State Election Tribunal dismissed the application filed by Obi and APGA in which they urged the tribunal to dismiss the petition by Ngige.
Lawyer to Obi, Dr. Onyechi Ikpeazu (SAN) had raised a preliminary objection, urging the tribunal to dismiss the petition by Ngige and AC on the grounds that the petition was contradictory.
In a unanimous ruling read by Mr. Justice M.A. Ahoda, the tribunal held that petitions before the tribunal would be determined on their merit and not on technical grounds.
Ikpeazu had argued that in one breadth, AC and Ngige in their petition were asking that the result of the election be upheld, while in the other were arguing that the election should be set aside.
The lawyer to Ngige and AC, Chief Emeka Ngige (SAN), had argued that in civil matters, a plaintiff or a petitioner was free to ask for alternative reliefs.
But in sustaining the petition of the AC and Ngige, the tribunal struck out paragraph 34 of the petition which sought to join the Chairman of APGA in Nnewi South Local Government Area that was caught with electoral materials.