Kemi Olunloyo Writes Open Letter to Toke Makinwa Over Controversial Vlog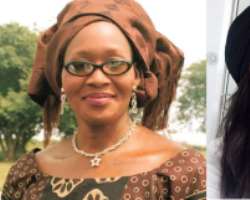 It seems the last has not been heard of Toke Makinwa's controversial Vlog that urged ladies before 30 to have one night stands among several other things.
Joining the growing list of Nigerians angered by her advice is the controversial media personality, Kemi Olunloyo.
She wrote:
After watching Toke's popular vlog, I agree that her videos are not for everyone. Definitely not for parents who have daughters. I said in 2007 that I am not a role model but a mentor. Only your motherly figure should be your role model. Role models fall from grace.

Toke Makinwa, the beautiful successful OAP and Youtube star sadly failed in her marriage because another woman Anita Solomon had a one night stand with her estranged husband Maje Ayida who went back for more. Anita simultaneously dated Ayida for 8 years alongside Toke for 12 years. What Toke may not realize is that GIRLS are going to become women & mothers some day. I said may. Toke Makinwa pls don't encourage them to have one night stands.

Unwanted pregnancies have occured time and time again. Some women have contracted the lifelong pain of HIV and some dealing with single motherhood and poverty. I have never been married and left an abusive relationship with my two children to become a single mom. I have no daughters but Im a feminist to the core. Many women were defiled after one night stands and were too ashamed to tell the police.

Don't ever kiss strangers. There is no etiquette in that. It's selling yourself cheap. While officer Sanguietti of the Toronto Police told us in the room not to dress like sluts to avoid being defiled, a global movement began #slutwalk. We dont have to wait for Oprah to march in the walk to get the message across.

Toke we don't have to wait for you to send a bad message across. Your sponsors, advertisers, humanitarian and activist groups are watching. As fierce, assertive and outspoken as I am, I urge you to retract the video message.

I always call Rihanna my daughter. You are my Nigerian daughter! #KemiOlunloyo

Best wishes darling!!
We love u Toke!
You are our STAR!!