Why they keep giving me bad roles – Browny Igboegwu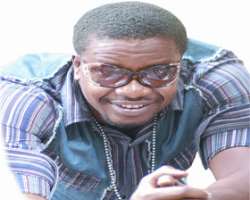 Browny Igboegwu, simply called Browny by friends and relatives, is a Public Administration and International Relations graduate who has been in the movie industry for quite a while. In this
interview with FUNMI SALOME JOHNSON, Igboegwu bares his mind on his career, love life and why most people do not see him as attractive, among other things. Excerpts;
Has anyone ever told you that you look like Paul Play?
For real. Sometimes, I take my time to look at that guy but I don not see any resemblance. Funny enough, there was a day I was in Orlu and some people had to bet money to come and ask me if I am Paul Play. I was terribly embarrassed that day.
How did you get into acting?
I am naturally gifted in the area of acting. I never had any dream or plans of becoming an actor. I got into it by accident. I went to see a friend of mine some day and within the neighbourhood, they were shooting a movie and he (my friend ) happened to be the one directing the movie.
Who is this your friend?
His name is Oke Ozubeluoko. He then invited me and I came over. Somehow, one guy was mixing up the role and I said I offered to have a trial on it. It was really a gamble. But I was convinced I could do it. I was given the chance and that was it. It ended up as real fun and here we are today.
Was it a lead role?
No, it was not. It was just a scene I did with Hanks Anyuku and the movie title was Expensive Error.
What kind of role did you play?
It was a cultist role....
For how long have you been in the acting business?
It has been over four years now.
How many movies do you have to your credit?
I have shot over 60 movies. I really have lost count now.
Which movie actually brought you into the limelight?
It is the movie, Marry me.
What about soap operas? Have you been a part of any?
No, I have not done any yet.
What about stage performance?
The last time I performed on stage was when I was in the secondary school. I have not done any in recent times. But being who I am, I like adventure and I will not mind doing one if the opportunity is there.
Many of your colleagues, after acting for a while, diversify into film production. Are you also thinking of producing your own movie soon?
I do not really want to get into producing, I like acting and I am basically an actor. If there is ever anything I want to delve into, it will be directing and that will be basically towards the end of my career. That is at retirement....
Are you saying you are going to retire someday from acting?
Everyone has got his own time and sometimes you need to do something new after doing one for some time. Besides, there will come a time when you will not really have that time to be going from location to location again. So at such times for me, I will fall back into film directing.
What were your parents' reactions when you went into acting? Were they at ease with it?
When I started acting, my father was already late and my mother was not comfortable with it, especially when I started plaiting my hair. She was like, ah, what has become of this boy? Sometimes when some girls came to our compound to make my hair for me, she was always embarrassed. But when it started going well, she was forced to get used to it. Even my siblings were like after all the years you spent studying in the university, is it acting that you would now take to? With time, however, everybody learnt to let me be.
What gave you the courage to carry on in spite of the challenges of not being well accepted for what you do?
I felt it was my calling and my vocation and probably the urge I felt to pass on some information and messages to the society, to correct some societal ills and misdemeanour. I was not discouraged therefore at all. I just forged ahead and I thank God for where I am today because some of those friends and siblings who opposed my choice then have had to come around me now with showers of compliments. They are simply proud of me.
Do see yourself in politics someday, may be on appointment or by election?
Well, everything is in God's hands. Whatever He wants to happen will happen and so I leave all that to him. I still may go into politics but that will be later and not now.
Apart from acting, what else do you do?
I am into events management, coverage and all that. We do audio-visual coverages for events and all that. I have a company that takes care of that.
What do you have to say about the Nigerian movie industry? Is there any improvement or is it just marching on a spot?
I think we are going places because a lot of people are coming up with different and new ideas. Talking about expertise, I can make bold to say that there has been a great deal of improvement. But we need to carry out more researches about whatever it is we want to do so that we can always improve on what we have done.
How do you view the ongoing crisis in the motion picture industry, both in the English speaking and the Yoruba speaking ones?
If I were in the shoes of those people, I would have preferred we come together, meet together and find a way around the problem rather than fighting. I am not a politician and I don't really know what the bone of contention is.
Would you say that the Actors Guild of Nigeria, as a body, is representing you well?
Yes, they are because there are times you have some difficulties and you make some calls to them and you have some assistance. It is just like the trade union. The reason you have the union is for protection, so that when you are in trouble you have someone who can intercede for you or something. And they are actually doing well in that respect.
Having been privileged to enjoy some measure of recognition and fame, how do you handle advances from female fans or don't they come your way at all?
It has been an actor-fan relationship and I try my best not to embarrass myself by trying to keep the relationship the way it is supposed to be. You know that today, young girls know artistes and stars but I have tried to keep a good relationship with them as fans.
When are we expecting the wedding bells to ring?
Don't worry, the wedding bells will ring, when it will. When it is time, I will invite all of you.
What kind of a girl attracts you?
My kind of woman is somebody who is not lazy, who is intelligent, God fearing and caring, who is also generous and honest. I do not like idle people, who are lazy and uncaring.
And you think this girl of yours has met all these expectations?
I want to believe she has got it all.
Looking back the last four years now, would you say that acting has paid off for you?
I would simply thank God for showing me this way and for helping me this far. He has really been very good.
How many big cars have you bought from this business?
(Laughs) I don't know. But I know I do not walk on foot.
Have you been sexually harassed before and how real is it real in the industry?
Nobody has harassed me and I have not harassed anybody sexually either. I have had admirers and I have handled them carefully.
What has been the most embarrassing moment you have faced perhaps for playing a particular role?
One guy saw me one day and told me frankly of how his grandmother hated me and he was damn serious about it. You needed to see the look on his face that day. When I asked him why his grandmother felt this way, he said it was because of a role I played in one movie where I played a young Peter Edochie who was beating his wife mercilessly. I had to beat her so much that she lost her pregnancy and all that. Honestly, a lot of people think I am a bad boy for this role whereas I am not. I don't know why they keep giving me a bad boy's role and it is affecting me one way or the other because most of our fans watch these movies with all their hearts and they feel like this is exactly what is happening and so when they see you on the road, they perceive you in that manner. May be because of the way I squeeze my face in movies that is scary. But then, do I really have any choice? I don't think so because I really don't have a fine face and it is not my fault. It is God that created me like that. Some others see me as hard and dangerous. But this is not true. I am not that kind of a person in life. I am a very simple and understanding person.
For $1 million will you play nude?
$1 million is too cheap for me to play nude and I do not think I want to play nude because there is no point in it.
What if the offer is big?
I am not hungry. May be if I were hungry, I could have gone for that. But, I am comfortable. I am not hungry.
Where do you see yourself in another five years?
I see myself in Hollywood doing big. Not by my grace but by the grace of God..
How about awards? Have you any?
Yes, I was given one last year by the University of Nigeria Nsuka. I got the artiste of the year award from the Anambra State Students Association, UNN. I feel very great about it because awards given to you by your peers are usually worth it since they know you better. I thank God for everything.