I am coming back with a bang —Temitayo George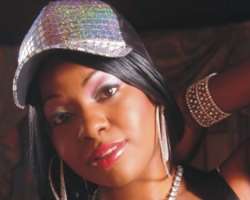 With Omawumi and Timi Dakolo having gotten themselves on the limelight in the music scene in Nigeria, TEMITAYO GEORGE, second runner up in the Idols West Africa reality TV show is making plans to come back big time. She spoke to AHAOMA KANU about her next album.
Temitayo, so much have been heard about the Idols contestants namely Timi and Omawumi and we hear you are cooking something, why have you suddenly been silent?
You heard right Kanu some great things have been cooking. What I can tell you now is that God has been faithful! My album is ready and I'm proud of it. I have a video coming out called Love Revealed that is the title track of my album. I'm proud of all the efforts Timi and Omawumi have been making and its no surprise because they are Go Getters and very gifted. I have also been making a lot of effort with furthering my music career and when my video & album come out you will understand why I've been silent from d scene for a while. A lot of my energy has also been channeled into raising funds for Little Saints Orphanage and other charities in Lagos.
You said in your interview then during the Idols competition that you want to use your music to raise funds for the charity your mother is into, have this dream been achieved?
This dream I've had to use my talent to create wealth so that I can help abused, orphaned and abandoned children have a better standard of life is being actualized daily. A percentage of my earning always goes to Little Saints Orphanage and as my income increases I'll be able to do more. When it comes to charity I feel there is always more that can be done. My mum is the founder of Little Saints Orphanage and with the help of God, the loving support of my father Capt. Jide George, faithful staff members and caring people from the society; she has been blazing the trail of success and working so hard to ensure that the children never go hungry.
This year has witnessed within a few months, many disasters from earthquakes, communal violences, plane crashes and all that and many accused Nigerian artistes of not standing up to the occasion as their international counterparts, what is your reaction to this?
I can't speak for everyone but I disagree, I know many Nigerian artistes tried hard to get involved and were very distraught about what was going on in the rest of the world. Many artistes and producer friends of mine used their resources, talents and promotional tools such as facebook, twitter, youtube and more to bring awareness to the plight of people who were suffering around the world in an effort to raise funds especially during the crisis surrounding Haiti. Nigerians are spread all around the world not just in Nigeria.
Assuming you initiate a peace song project which artistes would you like to feature in the song and why would you want them there?
I would choose artistes that go along the Inspirational line of music. I have been so impressed with a lot of artistes both male and female. From the males (In no particular order) I would choose Tuface, 6Team, Timaya, PSquare, Bracket, Djinee, MI, Timi Dakolo & Eric Arubayi just to name a few because I believe they've all been a major inspiration to their world. They are deep lyricists and I believe they would bring great strength, insight and passion to the project. From the females(In no particular order), Asa, Nneka, Kefee, Gloria Braimah, Nicky Laoye, Lara George, Jody Odiete & Joan Ekpai just to name a few.
You are about to release your full album, can you give an idea of the songs in the album?
I can describe my album as a feel good album. Its inspiring, encouraging, uplifting and most of all its loving. All the encouragement I could give to people from all walks of life, children, men, women, working class, people in relationships, people who are stressed out or those who just need to feel good is in my album. I always say "There's a song for everyone on this album" A song that inspires everyone to change their negative feelings into positive ones. Trade sorrow for joy, trade a bad relationship for a good one, trade stress for peace, trade anger for love and much more. There are songs you can dance to & let lose to and there are songs you can relax and even fall into a sweet sleep while listening to.
Are there any collaborations with any artistes?
I collaborated with a guy that I love and respect so much. His name is Izee, he has a very unique style of singing in patua/dancehall/reggae music. We met during Idols Top 60 and lost touch but then we met again through my producer Edmond Benson. I plan to do more surprise collaborations with some of the Artistes that have impressed & inspired me over the years.
Is there a possibility that you, Omawumi and Timi can do a collaboration just for old times sake?
Yes. I would love to do collaboration with Omawumi and Timi. In fact I'd love to do collaborations with a lot of the Idols not just from Top 10 but also from the Top 60. There were so many people that were in Idols top 40 that had fantastic voices but were not chosen because of nerves or for some other reasons. I look forward to a time when we'll all come together and collaborate. Don't be surprised if I do a duet with my very good friend Gloria Braimah very soon; she who was part of Idols. Collaborations are exciting and when done with the right people and the right song, they can be truly outstanding.
Exactly when will your album be out?
My album will be out within the next few months. When it's out you will hear the trumpets blazin'!