''THE WHITE WOMAN THAT SINGS GOSPEL IN YORUBA!''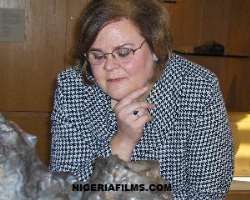 Kathleen "Kathy" Gerrity is an American born gospel singer.
Gerrity was born in the capitol city of Harrisburg, Pennsylvania on August 24, 1954. Her mother was a waitress and her father was a homebuilder, who died when she was eight years old. Eventually, her mother met and married Bill Fisher, who was a contemporary jazz guitarist. Well-known through out Pennsylvania, Fisher was a member of the Musicians Union and Central Pennsylvania Friends of Jazz. In time, he was inducted into Pennsylvania State's Jazz Hall of Fame.
At the age of 13, Gerrity was given an M3 Hammond organ and began taking lessons, which continued until she graduated from high school. School and church choirs were also among her musical interests. Many evenings, while her parents were at work, she and her sister and brother would often stand in front of the family room mirror, with a microphone plugging into one of Fisher's amplifiers and sing songs of the day found in several fake books while Gerrity or her sister played the organ. Fisher was always impressed by Gerrity's love of contemporary jazz and classical music and that she rarely listened to the rock-n-roll of the 60's and 70's. Her favorite artists were Frank Sinatra, Nat King Cole, Bobby Darren, and Mel Torme. Kathy attributes her style of singing to listening and attempting to imitate her favorite singers.
At the age of eight, after the death of her father, Gerrity wanted to become a nurse. This would not happen until much later in her life. The health care field was very rewarding and she volunteered as a paramedic on several different ambulance services over 17 years time. Eventually, she received her Bachelors in Science in Nursing (BSN) from Alvernia University in Reading, Pennsylvania. A few months after her graduation, she moved to the Baltimore, Maryland area where she settled in as a dialysis nurse. She would later be introduced to an experienced Nigerian Juju musician, Olayemi Idowu Bamisaye, by a co-worker. With a common love of music and keyboard they became good friends, with Gerrity accompanying Bamisaye to most of his performances. During this time Gerrity was given CD's of music sung in the Yoruba language. She played these CD's so much that she began to sing along with some of them in what she thought was too low for Bamisaye to hear. One day, Bamisaye asked Gerrity to sing one of the Yoruba songs she knew and was surprised at what he heard. Inspired by Gerrity's ability to learn songs in a language, which was totally foreign to her, Bamisaye began to compose songs for her to sing in his church, which she was now attending. She soon found herself learning to speak and understand Yoruba, and the rest was history!
In December 2007, Gerrity cut a studio demo at F&B Studio in New York City, New York. Gerrity was totally surprised when she heard what she sounded like with professional equipment. She was then asked to sing at the CD launch of her co-workers' husband. From there, Gerrity and Bamisaye founded a band and they became known as ''Kathy and Noble.'' Together they have performed for the Governor of the Osun State of Nigeria during the summer of 2008 when he came to the United States; opened for Yinka Ayefele in Washington, DC; Sang for Sonny Okosun, who said: "... in 30 years of traveling around the world, I have never before heard a white woman sing in the Yoruba language, and clearer than my own people speak it." A few months later, Gerrity had the honor to perform at Sonny Okosun's Memorial Service held in Washington, DC.
In October 2009, Gerrity traveled to Lagos, Nigeria on her own where she met many wonderful people, while living and enjoying the culture, food, open air markets, and etc. She visited the Army Recreation Compound, Cherubim and Seraphim church, along with the Redeemed Christian Church. As a good-natured healer - being a nurse - Gerrity visited a local hospital, which was then under renovation along with a short visit to St. Nicholas Hospital's Dialysis Unit in the Lagos Metropolitan. It was during this trip that Gerrity realized that most of the people who welcomed her into their homes, activities, churches, and country really had needs that perhaps she could fulfill. Gerrity wanted to give something back to the people of Nigeria for their selfless kindness, so upon returning to America, she began designing a plan to make a difference in health care and otherwise, for the people of Nigeria.
In 2009, Kathleen "Kathy" Gerrity signed under an American record label (with branches in Nigeria), NPC Records.Audioworks. Her new album, "BELIEVE IT OR NOT," will be released worldwide in 2010 by the same label.
EXCLUSIVE FOR WWW.NIGERIAFILMS.COM