Kourtney Kardashian Shows Off Her Abs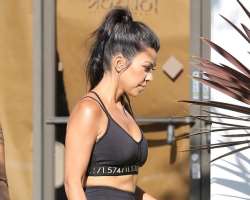 Reality TV star, Kourtney Kardashian has lately been following in the footsteps of her super-fit sister Khloe with regular workouts at the gym. And it's clearly been paying off, as the mother-of-three showed off her stunning toned figure on Monday, September 26, as she left a studio in Calabasas, California.
See the 37-year-old incredible looked in her black sports bra which left her sculpted abs firmly on display.