Game Of Thrones Breaks Record At The 2016 Emmys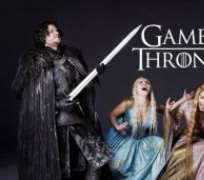 It was clear skies again for the creators of Game of Thrones and HBO at the 2016 Emmys. The series won the best drama series award for the second year in a row.
The HBO series was up for 24 awards and came away with 12 at Sunday night's Emmy awards in Los Angeles, USA, breaking a record set by the sitcom Frasier with a total haul of 38 Emmys.
The Battle of the Bastards episode was singled out for praise and won awards for best drama writing  and directing.
Veep, which has been nominated 42 times at the Emmys, won the best comedy category.
It was also a great night for The People v OJ Simpson, a dramatization of the OJ Simpson trial. The show picked up 22 nominations and won the outstanding limited series gong.